Pastor Alex Colón and Wife Deborah and children, Marissa, Joel, Caleb & Josiah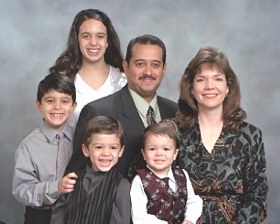 Alex and Deborah graduated from North Central University in 1991. Together they have served as Evangelist, Associate Pastor, Christian Ed. Director, and many other endeavors of the church life as well as other secular accomplishments.
Married for 15 years, they have four home-schooled children.
As a minister of the gospel, Alex longs to see a church of the Kingdom of God, full of God, engulfed in His presence, full of the Holy Spirit and Power, rooted and grounded in His Word, producing strong homes and a God filled sanctuary.