News of Upcoming and Past Events:


(Please keep your eye on this section for changing news.)



After Rev. Stone retired in October 2003, the Pulpit Committee began a search for a pastor. A happy coming together of Church and Pastor results in Rev. Alex Colón assuming the pulpit at Lighthouse Assembly of God in Gallipolis in January 2004.


Was Held

FRIDAY, JUNE 27, 2003

The Lighthouse Assembly of God has undergone a complete renovation of the building and was Rededicated to the Lord and His service.

District Superintendent, Rev. Robert Crabtree, was the featured speaker.

Special music provided by:

Rev. David Smith, Presbyter of the South Central Section, along with his wife Corrine.

Larry and Jan Fout of the Waverly New Beginnings Assembly of God.

Rev. Richard Montgomery, Pastor of the Waverly New Beginnings Assembly of God.

The worship team from the Calvary Assembly of God in McArthur.

Other highlights:

Founding pastor Rev. Sam Calhoun and other former pastors were in attendance.

There was a symbolic ribbon-cutting ceremony at the close of the service.

Refreshments were served beginning at 6:00 p.m. and after the service.

________________________________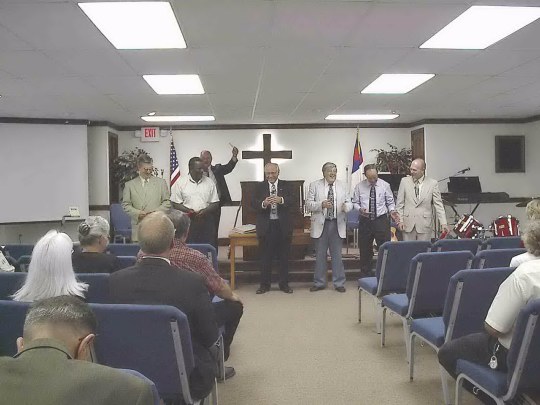 ___________RIBBON-CUTTING CEREMONY_____________

__________________________________________________________________________


Held on Sept. 29, 30, 2001

Our annual convention consists of a banquet on Saturday evening and a World Missions Service on Sunday.




This year we had Brother Joe Livesay from Indiana as our Missions Speaker. Joe was the speaker at our first convention also in 1994.

Brother Joe Livesay

In 1993, our giving to World Missions was about $300 . After we began having Missions Conventions, our giving to World Missions increased every year until now our pledges are over $14,000.

Lighthouse Assembly of God in Gallipolis is among the top 100 churches in per capita giving to World Missions among the Assemblies of God in the United States and is second in Ohio.

_____________________________________________________________________




JULY 7, 2002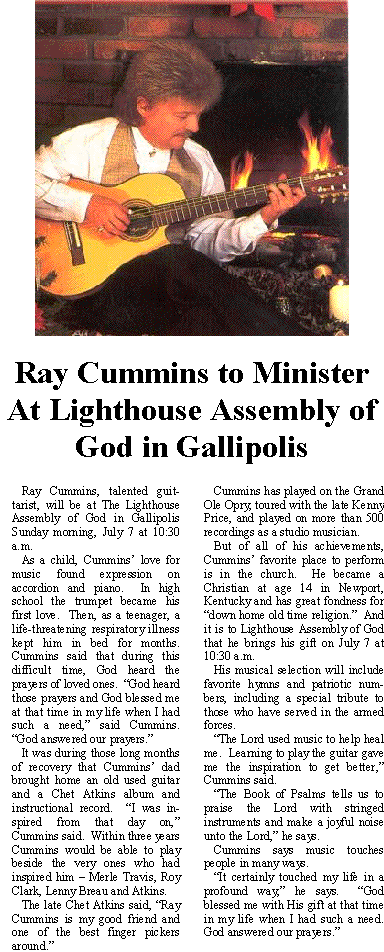 ___________________________________


| | |
| --- | --- |
| | Warren is a Messianic Jew and has a rich teaching ministry drawing from his extensive knowledge of the Old Testament, relating it to our Christian faith. |
| Rev. Warren and Kathy Frankel | |

___________________________________________________________




Ministry in Music for our Missions Convention

David is the Presbyter for the South Central Section of the Ohio District Council of the Assemblies of God. He is also the Pastor of Evangel Temple Assembly of God in Portsmouth, Ohio.




Their beautiful voices added so much to the success of our World Missions Convention in 2000 and 2001.

Rev. David and Corinne Smith

___________________________________________________________________




Ministry in Music for Our Past Missions Convention

Terry, along with her husband, Rev. Michael DeLong, provided special music ministry during our banquet and missions service.




Terry is the daughter of Pastor Ken and Shirley Stone. She is a graduate of Centerville Bible College in Centerville, Ohio.




Terry and Mike have four sons, Ben (21), Jon (19), Matt (17), and Sam (15).




They live in Bellbrook, Ohio and attend Hillside Chapel (Christian and Missionary Alliance) in Beavercreek, Ohio where Rev. DeLong is Associate Pastor and Minister in Music.

Terry DeLong